Decorative Hardware and Unique Gifts

101 East King Street ~ Malvern, Pa 19355 ~ Toll Free 1-800-440-3225 ~ Local: 610-408-8533 ~ Fax: 610-640-3785 ~ email:
sales@wolfebrass.com
---
Personalized Blue Delft Birth Plate by Royal Goedewaagen
Produced in the Netherlands by the oldest and largest European manufacturer, Royal Goedewaagen.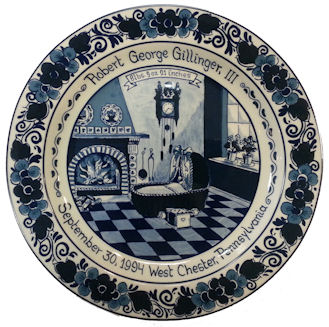 (click on picture for larger view)
Letter style and positioning of information may vary.
Each piece is lettered by hand and is a unique piece of art.
#RG1370
Personalized Delft Birth Plate
8-13/16" diameter
$169.95 each
PRODUCT INFORMATION
Personalized Blue Delft Birth Plate by Royal Goedewaagen
- 8-13/16" diameter
- Commemorative celebrating birth.
- Made in Holland by Royal Goedewaagen.
- Inspired by a centuries old Dutch tradition.
- Weight and length are written in the banner above the lock in the image.
- Hand lettered with baby's name, date of birth, weight, length, city and state, plus the nursery clock in the picture will be set to the time of birth! (see insert at top left of picture above)

---