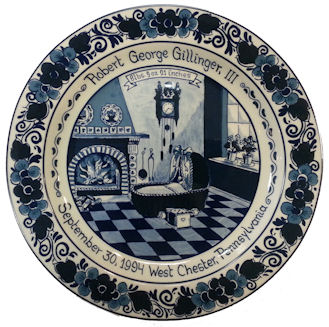 Letter style and positioning of information may vary.
Each piece is lettered by hand and is a unique piece of art.
Click on picture for larger view
#RG1370 Personalized Blue Delft Birth Plate
8 3/16" diameter
$150.00 each
These items are ordered directly from Holland.
Shipping time is approximately 6-8 weeks.
Made in Holland by Royal Goedewaagen.
Weight and length shown on banner in picture.
The nursery clock will be set to the time of birth.
Commemorative Celebrating Birth
Inspired by a centuries old Dutch tradition. Hand lettered with baby's name, date of birth, city and state where born plus, the banner above the clock will display the baby's weight and length and the nursery clock in the picture will be set to the time of birth!