Decorative Hardware and Unique Gifts

101 East King Street ~ Malvern, Pa 19355 ~ Toll Free 1-800-440-3225 ~ Local: 610-408-8533 ~ Fax: 610-640-3785 ~ email:
sales@wolfebrass.com
---
Christmas Pickle Ornament #64856
Handcrafted in the USA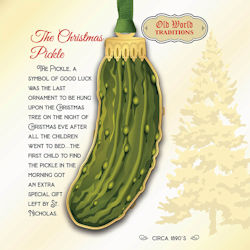 #64856
Christmas Pickle Ornament
Seasonal Collection
List Price: $27.50 each
Sale Price: $23.50 each
(click picture at left for larger image)
#BA64856 Christmas Pickle Ornament
Beacon Design Ornaments by Chem Art
Solid Brass Christmas Ornament Collection
Click here for more information about Beacon Design Ornaments by Chem Art
The Christmas Pickle Ornament is a beautifully executed design with varying levels of dimension and depth. This piece adds a level of elegance to any decor.
Each ornament is exquisitely handcrafted in the USA from solid brass, finished with 24kt gold and digitally printed color. This item is packaged in a decorative window box with soft insert; great for gift-giving and storage.
Approximate size: 3.478in x 1.4in
Collection: Seasonal
The Seasonal collection celebrates the joyful spirit and tradition of the holidays. Create new memories with these beautifully handcrafted ornaments made 100% in the USA from the finest materials, each keepsake is packaged in an elegant gift box.
---
---